As so often, the internet loses itself in technical terms, every other one of which has to be googled. It is the same with Web Hosting. To host your site perfectly and give you a deeper insight into the world of web hosting, there are certain principles to be observed. We have picked out and explained the most important concepts.
Important factors
There are now a variety of web hosting providers all offering different packages. As ever, the general view is obscured. There are several key elements that should be considered when one or more websites from a particular provider are to be hosted. The keywords are:
traffic
memory space
automatic backups
domains
availability
SSL encryption
shared or dedicated hosting
technical support
Each web hosting package has other offerings. So it is important to find the right service for your needs. To begin with, however, only the most important terms will be explained and illustrated.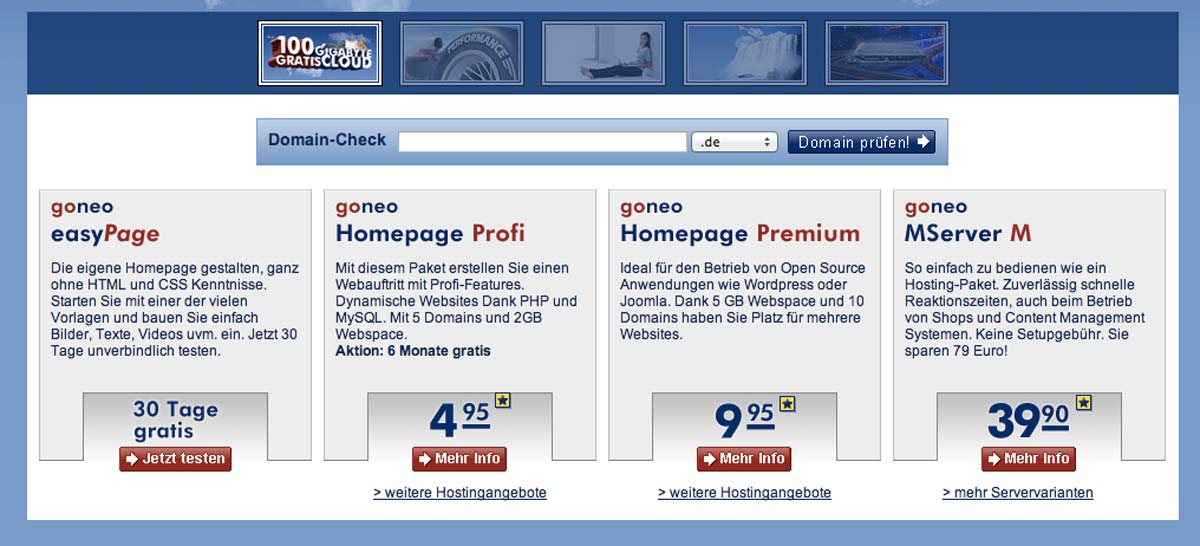 Source:
www.goneo.de
goneo offers three different
web hosting
packages
Traffic
Each time a user visits your site or uses an offering on your site, it uses up a part of the traffic allowance. Images and other media raise the traffic consumption. Many vendors have provided models for traffic. Traffic initially plays a minor role for newly established websites. The larger the user base becomes, the greater the traffic. Therefore, it is always good if the web hosting provider allows larger packages for more traffic. Especially with websites that permit downloads, it should be ensured that enough is available. A rule of thumb applies: a website with 5 images consumes about 2MB per view.
Memory space
The memory space - also known as webspace - stores all media that appear on your website. This includes pictures, videos, downloads and similar. The files are stored on the hard drives of the web hosting provider. Therefore, the space is also limited to a certain degree.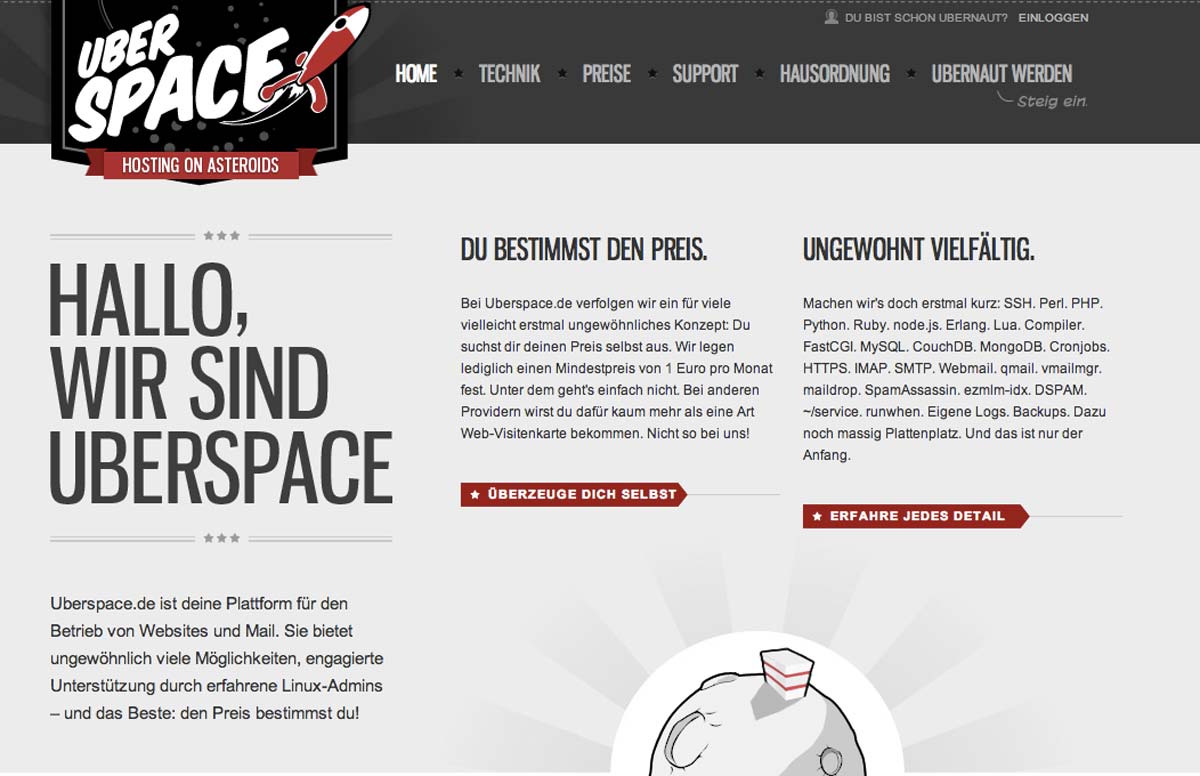 Source:
www.uberspace.de
At uberspace you can determine the price of your
web hosting
package yourself
Automatic backups
No hard drive has unlimited life. In the event that this misfortune should eventually befall a hard drive that is on your website, backups should always be made. These should be automatically bundled within the package. This allows your website to be restored in the shortest possible time, and downtime is accordingly reduced. Most providers have specified an approximate time that is needed for the restoration. The principle, of course, is: the shorter, the better!
Domains
Every website has a domain. The domain name is of immense importance because it is a fundamental factor for search engines. However, there are different packages for web hosting providers that limit the domain name to one. If you want to add one or more websites to your list, it is always practical to have yet more domains to choose from. Therefore, you should keep the number of available domain names in mind when choosing a web hosting offer.
Availability
It's always interesting to see what a web hosting provider indicates as availability. Most packages give statistics about how much downtime there has been. The most popular is 0.01%. And that is the number you should look out for. Or in other words, the availability should be 99.99%.
SSL encryption
SSL stands for Secure Sockets Layer and encrypts the data transmission of the website. Every website which comes in contact with confidential data should ensure SSL encryption. For example, online stores need to encrypt your data transfer, so that account numbers or credit card numbers cannot be spied upon. Therefore, care should be taken with a web hosting plan as to whether or not SSL is included.
Admin panel
Professional providers grant the user the opportunity to choose his own settings. This occurs via an SSL-secured admin panel. He can create for himself e-mail addresses, set spam and anti-virus settings or administer his database. For customers who want to have as much freedom as possible in their preferences, this is obviously a must.
The in-house admin panel of amyma provides all the freedoms described above
Shared or dedicated hosting
The difference here can be really noticed in the price. Dedicated servers are extremely expensive, because a computer is only used for hosting your websites. Shared servers are now widely used and significantly cheaper. On shared servers, you share your host provision. However, no overview is given of who the hosting provision is shared with.
Technical Support
Unfortunately, minor or even major errors often occur on a web page. To eradicate these gremlins as soon as possible, technical support is essential - particularly for the very technical part of the database service, a technician can reliably be of help. Online support is in this case always desirable, because the user always has a record of the information exchange.
Conclusion
The web hosting supply on the net is huge. So it pays to weigh all the options to find the best provider for the needs of the user. The above items cover some of the key concepts for web hosting. However, it is only a glimpse of this world. The factors described above are a good armour to put on in the search for the right web hosting provider. From here on the rule is: compare, compare, compare!